Reitenour expresses faith in seeking governor's seat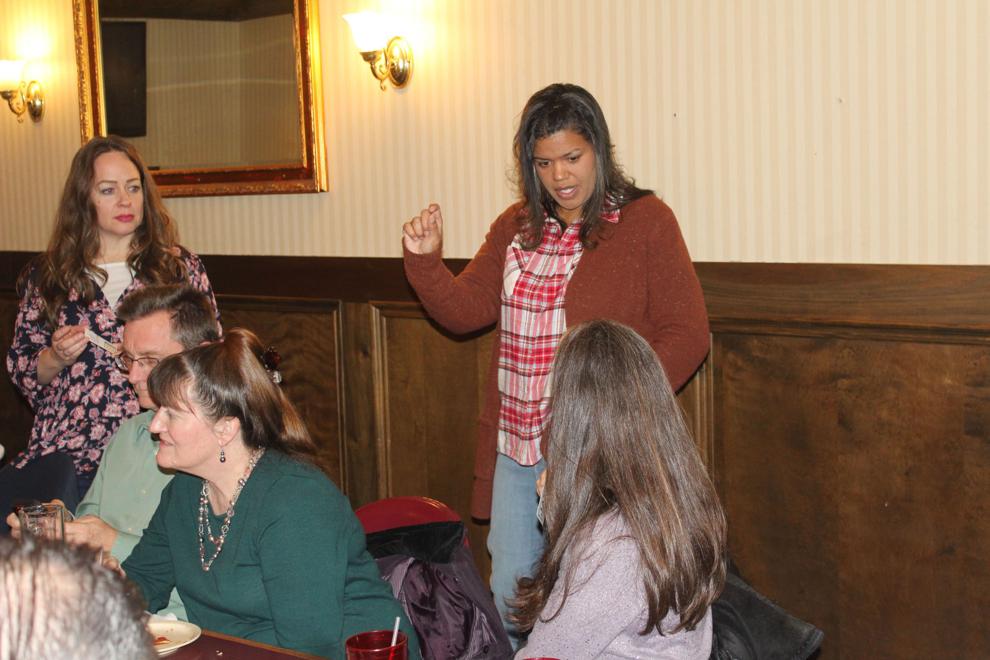 Five years ago, Jamie Reitenour was in downtown Indianapolis when she heard a whisper in her heart.
"It was very simple," she told a group of Shelbyville residents Saturday evening at Cagney's. "'You're going to be the governor of the state of Indiana.' It was a whisper. I did what I think all Christians should do. We believe that God still speaks. We don't run ahead of him."
She put that message "up on a shelf" and waited for the right time.
That time arrived last year, when she was looking up Bible verses and came across one in the book of Nehemiah.
Chapter 8, Verse 9 refers to Nehemiah as a governor, which was not a coincidence in Reitenour's mind.
"I call that a word from the lord," she said. "And once I had that word, I became very confident in that calling."
Reitenour announced her candidacy for governor on Jan. 6, joining a crowded field among Republicans that includes U.S. Senator Mike Braun, Indiana Lt. Gov. Suzanne Crouch and Eric Doden, a businessman from Fort Wayne.
Reitenour acknowledged to those in attendance that she was going up against giants – in fact, she said they were "bigger than a giant."
"You don't have to tell me how big the giant is," she said. "I've already heard it."
When someone told her it was "bigger than a giant," she said her heart whispered, "if it's bigger than a giant, I'll need a smaller rock."
"We are walking by faith," she said.
She later made a prediction at the end of her speech.
"I respectfully tell you, I'm slaying a giant," she said. "This isn't about the journey. The giant's going to fall. The lord's going to be glorified. And it starts with you. You are part of the people that get to build the wall (a reference to the book of Nehemiah)."
Reitenour spoke with The Shelbyville News in an exclusive interview following her speech.
This is the first time that Reitenour has run for any type of office. She admitted it was a path she never planned on pursuing until the lord spoke to her. And she admitted that it was an immense step.
"Calling's normally aren't (taken in small steps)," she said. "It's not something that was on my bucket list. I never had it on my list to be involved in politics."
She said it was a positive, however, that she has no background in politics because her sole motivation was to serve the people of Indiana.
Her decision to run was a sacrifice because it meant being away from her family, she added.
"I don't come to the table saying who can give me money for this reason and what deal can I strike with that person?" she said. "Every single decision I make is, is it the best for the people of Indiana? I don't have the baggage or maybe the burden of having to please anyone. What I look to do is please the people of the state of Indiana. It's servant leadership, and that's really what government's about."
Her stop in Shelbyville was part of the Indiana Goodness Tour she has embarked on in an effort to spread the word on what she stands for.
She told local residents that she was not prepared to reveal specifics of her policies.
Those specifics will be revealed in the next couple of months, starting with education.
But she made it clear that if she were elected as the state's next governor, her policies and the decisions she makes would be driven by her faith.
She made numerous references to different books in the Bible, in particular Nehemiah, and gave some background in her faith. And her campaign motto, "Rebuild, Revive, Rejoice" is from Nehemiah.
Reitenour spoke about a few issues that will be at the forefront of her campaign, including education.
She said she has volunteers with backgrounds in education and she wants to begin meeting with representatives from school districts including superintendents, principals, teachers and students to share her vision.
Her team is diligently working on creating a vision before it is revealed to the public, she said.
"I don't want to be pie in the sky," she said following her speech. "I don't want to bring to the table, this sounds really good but we can't actually get it done. So that's the reason why we're not rolling out plans and taking big shots. That's not what we're doing. We're sitting down at the table, having hard conversations about what's possible."
She also shared to those in attendance she wants to shrink the government's influence on American life.
"The more government's involved in our families, the more trouble we are in," she told the audience.
The government is broken, she went onto say.
"The problem is to fix it, (politicians) have to take a very humble step and admit that they're part of the problem," she said.
She spoke more about those concerns following the event.
"What's difficult is there's so much broken in the government, you have to fix it through government. but at the same time, you're trying to balance that by saying government needs to stay out of things," she said. "So that's a very fine line to walk, so we're trying to walk that fine line. What can we do that's going to benefit the state of Indiana without actually infringing on them?"
While touring across the state, she has seen how much its residents have been taken advantage of, which bothers her.
"It bothers me because I'm an American, it bothers me because my parents were in the military, it bothers me because I care about others," she said. "And seeing how much the government has grown and infringed on the freedoms of people is incredible to see."