Shelbyville Police Department School Resource Officer Floyd Hastings attributes his recognition as Indiana DARE Officer of the Year to the community.
"I'm very proud of what the community has done over the last 20 years with the DARE program and has allowed us to do with the program," he said. "There's no way that I could've done it by myself. Like I said, everybody's name should be on that plaque. My wife Jennifer, my kids, Tyler, Trevor and Brooke. Our family members – you could just keep naming names all day and not stop on the people who have supported me over the years."
DARE – Drug Abuse Resistance Education – fosters solid community relations as parents, schools and police departments work together to help the children of Indiana resist drugs and violence, according to Shelbyville Police Department website.
Hastings was recognized Thursday morning at Governor Holcomb's residence. He serves as the school resource officer (SRO) for Shelbyville Central Schools.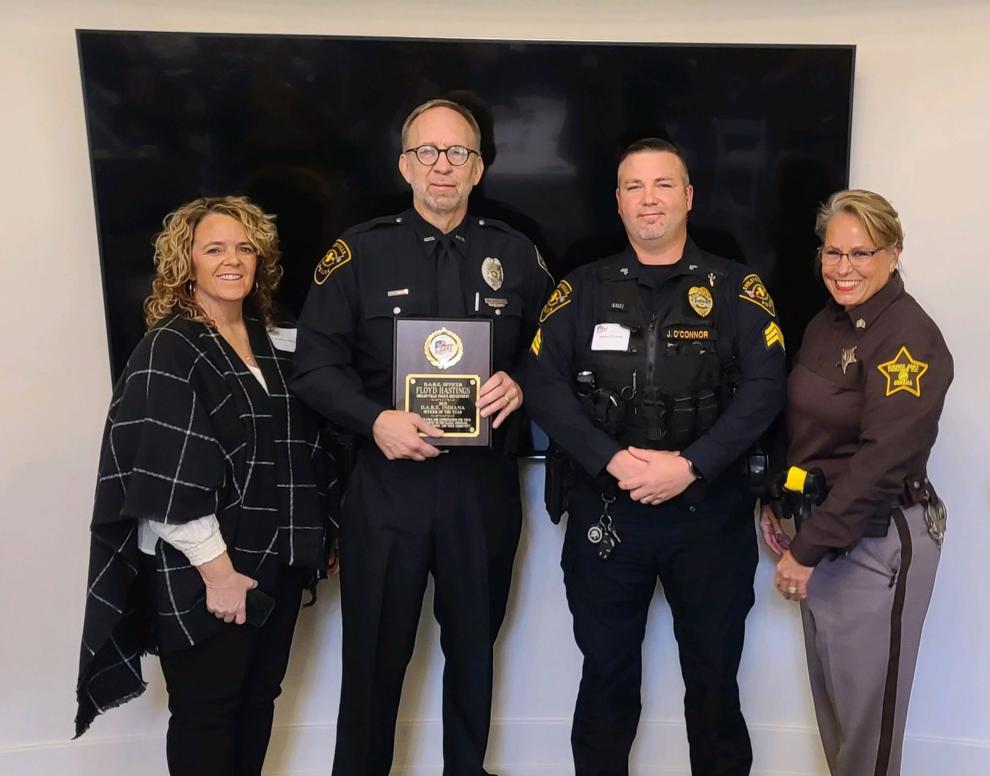 "That was the first time that my wife and I, and [SPD Officer] Jeremy O'Connor went," he said. "Lt. Gov. Suzanne Crouch was there, and she presented us the award, along with Indiana DARE rep. Christine Rapp from Hancock County. It was a short, nice little ceremony. Not real large. I'd never been there, that was different."
Hastings started at the Shelbyville Police Department in 1996. He became a DARE Officer in 2001.
"I've always wanted to be a policeman since I was in second grade basically," he said. "So when Mary Joe Phares was our first DARE officer, she was an officer from 1997 to 2001, and in 2001 she won the DARE officer of the year. So I'm kind of the second one to receive it with the Shelbyville Police Department."
Phares retired in 2001, he said. Hastings decided to go for the position for two reasons.
"In 2000, I hit a subject with my police car and killed him here in Shelbyville, and he was intoxicated, but that kind of got me into thinking, 'Hey, maybe I need to get into the schools,'" he said. "I had a very difficult time after I hit him – Why did that happen?
"And my daughter was at Loper. Brooke would come home and talk about it and I thought that may be something I could get into," he continued. "[Phares] retired and I thought well, somebody needs to step up. Me and another officer applied for it and I got it."
That lead to 21 years of serving the community. He started as an SRO at Shelbyville Schools in 2016.
"I work for Shelbyville Central Schools," he said. "I retired in 2016 as a full time [SPD] officer. In 2014, DR. David Adams asked me if I'd wanted to work for Shelbyville Central Schools as a school resource officer. I had two years left, and he said come and see me. So in 2015, he said once you've retired, I want you to float my elementary schools. I asked if I could still do DARE, and he said of course."
Prior to that, he served at all county schools.
"For a period of time there I was teaching all of Shelby County Schools, which really kept me busy," he said. "I was jumping from one school to the other."
In his 21 years as a DARE Officer, Hastings was able to support the schools in a multitude of ways, more so than just holding assemblies or going into the classrooms to teach kids about the dangers of drugs and alcohol.
"Over the past 20 years, we got an old 1962 Mercury Monoray donated to the DARE program, which we mocked up into a police car," he said.
"I was able to get a golf cart," he continued. "I bought a golf cart and we used it a lot with drunk goggles, we get students and have them drive a course, then they drive a course with the drunk goggles on to tell the difference. We don't have that golf cart anymore, but when I retired I donated it to the SCS and the high school uses it about every day still."
Hastings would also have golf outings, chili cook offs, and have pool parties for the graduating classes, too.
"We still do the chili cook offs and I have to give a shout out to the Eagle Riders, they help me a lot with that," he said.
Hastings is really proud of the money he and the DARE Program have been able to provide the Shelbyville Central Schools Education Fund.
"The DARE program has given that organization over $5,000 for the teachers in the classroom and they greatly appreciate that," he said. "It helps the teachers buy things in classrooms they wouldn't have to buy out of their own pocket. I'm really happy with what the community has been able to help me support because if it wasn't for the community, I couldn't supply and do the things I've done in the past. I'm very grateful for that."
Hastings said the pandemic changed the way he would teach in the schools.
"The pandemic screwed a lot of my classes up," he said. "The schools now have a new, it's called 'Too Good For Drugs,' which they implemented, which was kind of a segue out of the DARE program. I still do things in the school with the DARE program, but I'm not going into each individual class."
After more than 20 years, and with this new program, Hastings thinks this year will be his last going into the classrooms to teach.
"After 20 years, I think it's time. I'm getting up in age, and they still have the Too Good For Drugs program, which they teach in every classroom. So it makes it nice. I still support the program, I still support the schools financially with DARE money that I raise and things like that. I'm not quite out of it, but really I think the award was more toward the last 20 years, versus just the last year."
Hastings will still serve as the DARE Officer for the city, raising funds and compiling resources for the schools when they need it. In fact, he just completed a dish soap fundraiser, where he said they raised a couple thousand dollars for each school.
And the DARE Program will still sponsor the showing of "Elf" at The Strand Theatre the weekend of Nov. 26. (Tickets are available at Shelbyville Paint and Flooring, at the door, and online at https://strandpac.square.site.)
"I always sponsor, the DARE program always sponsors the movie Elf at the strand each year," Hastings said. "That will be coming up here soon. It just helps the strand. I get tickets I pass out to my teachers, students, their families, to let them go and have a night out with the family. The strand will be showing the movie Elf."
Because really, it's the help of organizations like The Strand and the community support that allowed Hastings to make such a positive impact, he said.
"I got DARE officer of the year and I'm pleased," he said. "It's not just me whose name should've been on the plaque. It should've been all the officers who do the things they do without being recognized."