Just consider that thousands of years of gardening passed before ergonomic tool designs pushed tool costs into the stratosphere. My great grandfather, Tippy, lived in a place called Rattlesnake Ridge in Hart County Kentucky. Tippy left the house every morning to work a patch of something visible from his front door step. He took his breaks from work in a limestone cave with a tin cup where he caught a dripping of water in a bucket and cooled down from the heat.
Now-a-days gardeners use a stamped metal hoe from a factory, often with a fiberglass handle that sells for $35 to try to do the work. Tippy made do with an Eye hoe; the design of which didn't change for hundreds of years. Eye hoes were hammered and hardened in a forge and fitted with a hickory handle. One didn't even break stride to whack out little saplings growing up in the weeds. I have two. They can be found in flea markets and auctions, sometimes at a much lower price than the garden stores.
I've used old tools for much of the work on our place and keep them in an old open-ended wooden barrel in the shed. You just pull out a tool, rest it on your shoulder, and walk to the garden. With an Eye hoe you can dig a trench for potatoes or mound up hills for cucumbers, squash, or sweet potatoes. If it's edging you want around your flower bed, it will whack out divots that will entertain your chickens for hours.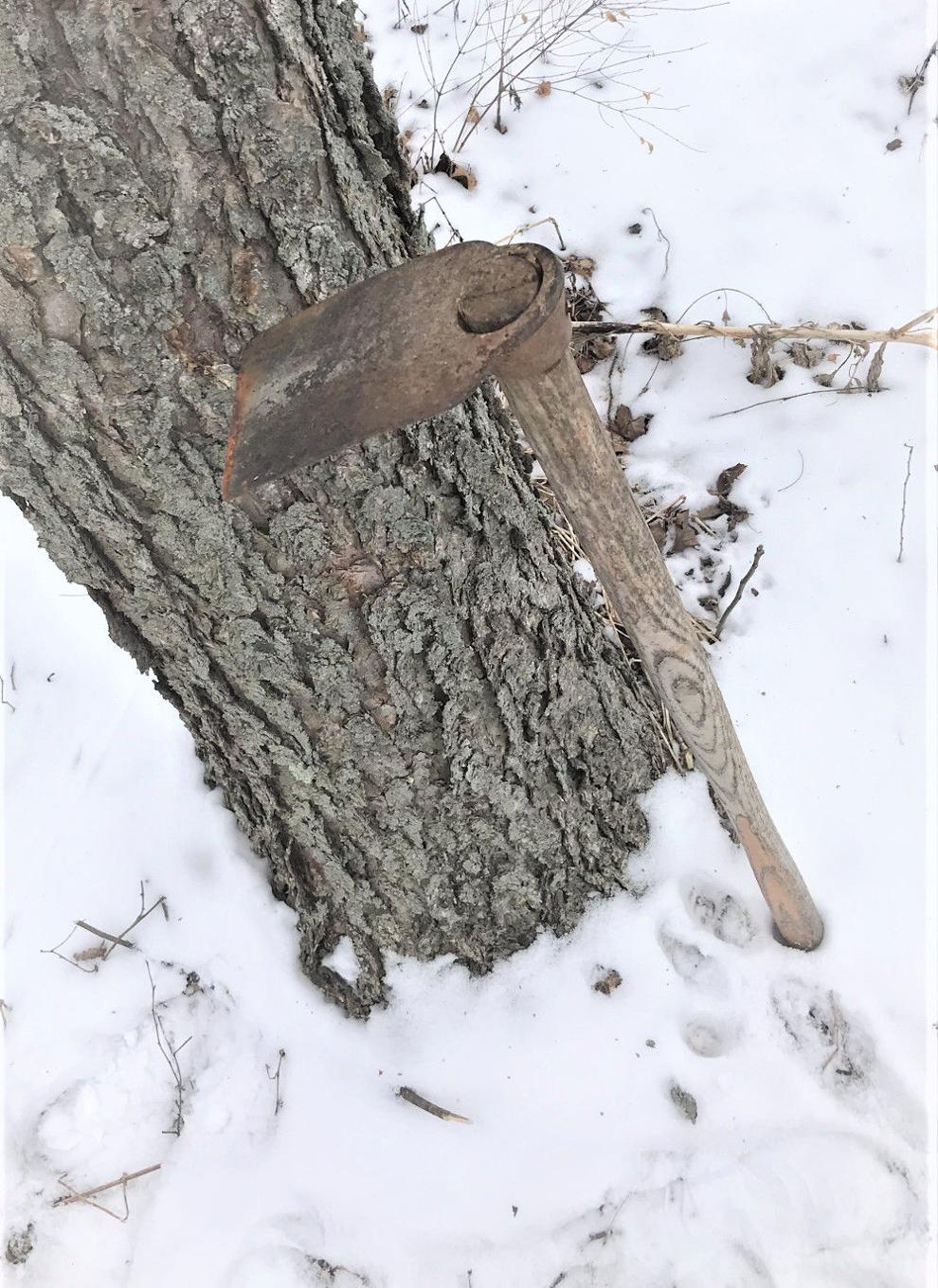 Restoring vintage tools is simple. Let your eye focus beyond the grime and rust. Forged tools will have visible hammer marks. Avoid a structurally damaged tool. Hold it in your hand and get the feel. If all is good, consider restoring.
Begin with removing the caked-on mud and grime. Old-timers would clean their tools using a bucket of sand and Boiled Linseed oil. It involved dunking the blade into the bucket – moving the blade up and down – then slap on a light coat of boiled linseed oil to finish.
Today, using a steel wool barbecue-grill scrubbing pad followed with soap and water is one method used. Once the blade is clean and dry, the final step is a light coat of boiled linseed oil. boiled linseed oil, not raw linseed oil is recommended because it dries quicker and is cleaner.
Wooden handles should be free of any visible grime and also cleaned and wiped down using boiled linseed oil. On occasion, wooden handles may begin to splinter at which time a light sanding is in order prior to applying the oil. Linseed oil protects the metal of the tool and aids in preventing wooden handles from drying out and splitting.
Sharpened tools make for easier work. The Old-timers would hold the blade between their knees delivering a downward stroke to the beveled edge using a Bastard file. The edge was finished when it felt sharp to the thumb. Current day methods remain much the same with a little more attention paid to safety and more choices in the file design.
Whether you are a flea market shopper, a high-end ergonomic tool buyer or someone in the middle, we encourage you to do maintenance on your garden tools regularly for longevity. As for me, I keep these old tools because Tippy used them and somehow they came down to me.