The sound of screaming goats could be heard from across the fairground Wednesday morning.
Alpine, Nubian, and La Mancha goats and their dozens of handlers alike were all ready to show off the hard work and dedication they've put in for the annual 4-H Dairy Goat Show.
Seasoned goat handler Ella Koch had a very successful day as she had two goats advance to the Grand Champion Dairy Goat round.
"It felt really good, I know that I have worked with those goats every day of the week and I raised them from babies," Koch said. "It felt really nice to have two of my best does in the grand drive."
"I have had goats my whole life, and I've been showing them since I was able to walk," Koch said. "Being involved in 4-H has been just a big part of my life and my family's life. It's probably one of the best things I've done."
One of Ella's Alpine goats was named Grand Dairy Champion.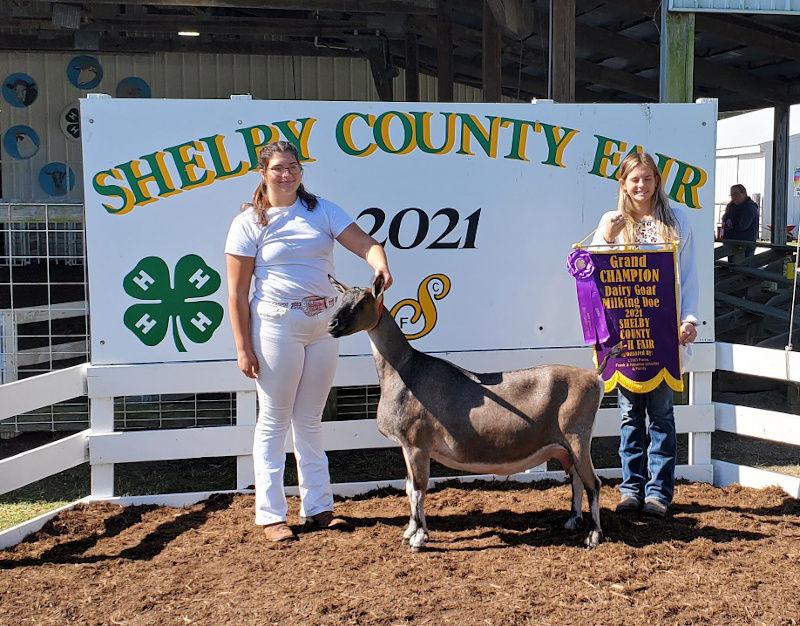 It is not the first time Ella has received the award, but this year was special.
"My aunt who passed away, this doe was one of her favorites, Koch said. "She's been a big part of my life. She's done really well for me and I've been working with this doe since she was a baby, she was the first goat I ever pulled."
The Reserve Grand Champion was awarded to Lilli Dove and her Nubian goat.
After being named the runner-up, Dove and her goat shared a sweet moment with her goat involving some petting and a hug.
"This year has been really thrilling because I've been back with milkers," Dove said. "I haven't shown them since my first year, and this year has been really good for me with everything that I've shown and it feels great to be back since 2020 [was canceled]."
As a fifth year handler, she has greatly enjoyed her return to showing dairy goats
Lilli said the success felt "really good because we have worked our butts off."
While the average person might struggle to name the distinctions between the three goat breeds, the differences are pretty clear. The easiest way to start is with the ears.
Nubian goats have floppy ears like a hound dog, Alpine goats have medium length ears like a German Shepard, and LaMancha goats almost appear to not have ears. The differences go further though.
"I like my LaManchas because they are a little more chill than the Nubians," Dove said. "There are a lot of people that don't know about the ears or anything, and it's a breed I want to keep going into the future. I like my Nubians because they give you a little test because they are a breed that's not so smart and a little stubborn."
"Alpine is more stubborn than any goat breed that I have, LaManchas are easygoing, and then you have Nubians that are high strung and are a lot stronger in their build," Koch said. "Every breed has characteristics that make them so unique."
Most of the handlers spend countless hours with their projects, and form a very tight bond with their goats.
"I just wish that more people could get out to watch this and see how much work these kids put in with their goats and watch their success," Koch said.