Bill Pike sold his Harley to buy a bus and start a transportation business, debt free.
The Shelbyville Central Schools Special Needs Driver and CDL Trainer will finish out the year with the schools, and then provide a full-time transportation service for the Shelbyville Community, named Shelbyville Transportation Ministries, LLC.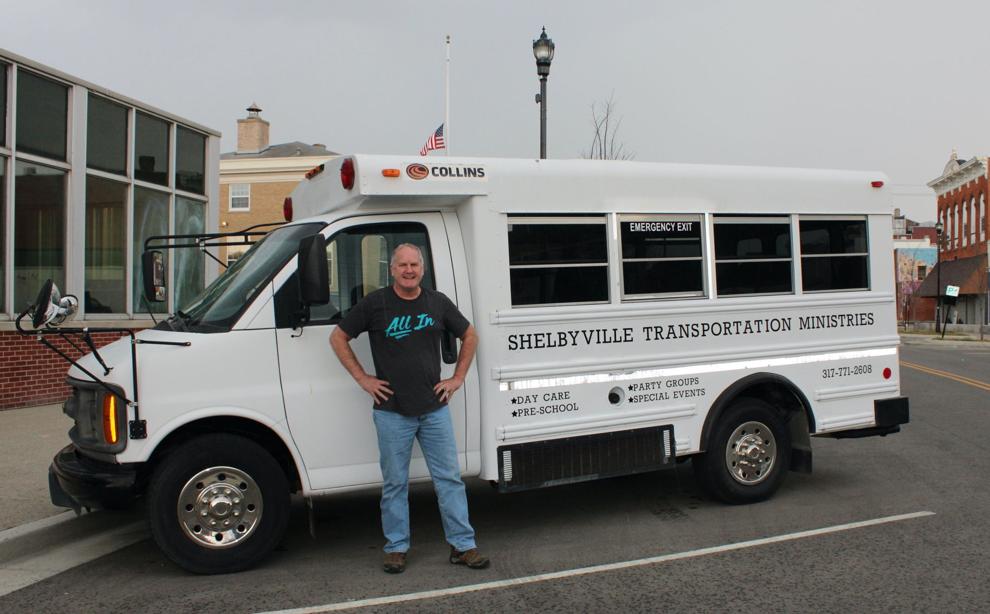 Pike said his faith influenced his decision to start a business. He is a member of Shelbyville Community Church, which started a program called "All In" a few months ago. The program is designed to build up the community.
"Probably the most important part of this is I attend Shelbyville Community Church," he said. "What that program is really designed to do is build up our community and help those who are struggling with anything from drug addiction, to getting out of jail programs, and battered shelters for women."
The All In program is also starting a preschool, named KPC Ministries. Pike thought since he'd been a bus driver for four years, this would be an opportunity for him to become a transportation manager at the church.
"That got shot down," he said. "I prayed about it some more, and I thought maybe the church can buy the bus and I could drive it for them. It got shot down, insurance issues, liability issues. I had a one hour [Zoom] meeting with my director … I knew after that one-hour meeting that I was supposed to start my own business."
"I'm starting a business in the midst of an election year and in the middle of a pandemic," he said. "Who in their right mind does something that stupid? But that's what I felt and believed I was being called to do."
Pike got a business license a few weeks later, talked to advisors, and picked out a name. All he needed was a bus. And that's why he sold his Harley.
"I had searched for a bus, couldn't find a bus to my liking, and I found one down in Texas," he said. "People are thinking, 'You went all the way to Texas and brought that back?' Yeahhhh."
He flew with two of his friends and his wife to Dallas Fort-Worth and drove the bus back four weeks ago. The trip back was four days.
"Just before that, I'd been praying about this, and I had a really nice Harley sitting in the garage," he said. "This was back over the holiday. No one buys a Harley in the midst of winter. It was on the market for three days and it sold. I paid cash for the bus, and started this business debt free."
The four day trip back to Shelbyville consisted of a mini-vacation.
"We stopped off at Hot Springs, Arkansas, and Waco, Texas," he said. "We went to [Magnolia] Silos. It was amazing. We had some great food while we were down there and some awesome barbecue."
Putting in his resignation with Shelbyville Central Schools was the hardest part for Pike, but he was in for a surprise.
"I ended up typing up a resignation letter," he said. "[My wife] goes 'Can I make some changes?' … She made some changes, I reread it, and it was perfect. She goes, 'Now send it.' I said 'Noooo, that ain't happenin'. She said 'Why not?' I said 'Cause' but that wasn't a good enough answer because she said 'SEND IT.' So I was like 'click.' Not bringing that one back!"
When Pike walked into his employer's office the following morning, he said she was in a good mood and he feared she hadn't checked her email yet.
"She goes, 'Billy, what you're doing for the Shelbyville community will be amazing,'" he said. "So I had the full support and backing of my boss. And I think it was just one more step in my faith that I was making the right decisions and the right choices."
He's already started scheduling some rides, but when the school year ends May 26, he will be running the business full-time.
Shelbyville Transportation Ministries has its first "gig" April 17 – he will be taking a group of people up to Indianapolis to a pedal bar.
"One of the gals, Lois, she's heading it up, she said, 'Bill, we're gonna pay for your ticket.' I said, 'I can't drink!'" he said.
In addition to scheduling trips to Indy and other areas in a 50 mile radius, Pike is also looking to service the local preschools in the area. He's even in kahoots with Girls Inc and the Shelbyville Parks Department discussing possibly helping those organizations out with transportation.
"And then there will be the extracurricular activities on Saturdays," he added. Especially Prom and sports games.
His rates are lower than an Uber. He charges $10 per person for a trip, or $25 a week for an organization.
"I'm not doing this to get rich, I'm doing this to give enjoyment and kind of like I said in my statement, to be the hands and feet of Jesus," he said. "To be one that's giving, that shows love, and that's there to support an initiative. I think those things are very important."
Shelbyville Transportation Ministries can be reached at 317-771-2608, shelby transportationministries@gmail.com, or on Facebook. He's asking those requesting a ride to provide 24 hours notice, however if it's a last-minute situation one can call anyway and he may be able to help if he's available.
Pike plans to get another Harley at some point.