Rushville Consolidated High School student Emily Bradley just started training for the goat tying rodeo event in October.
She's already qualified for National Little Britches Rodeo Association finals next month.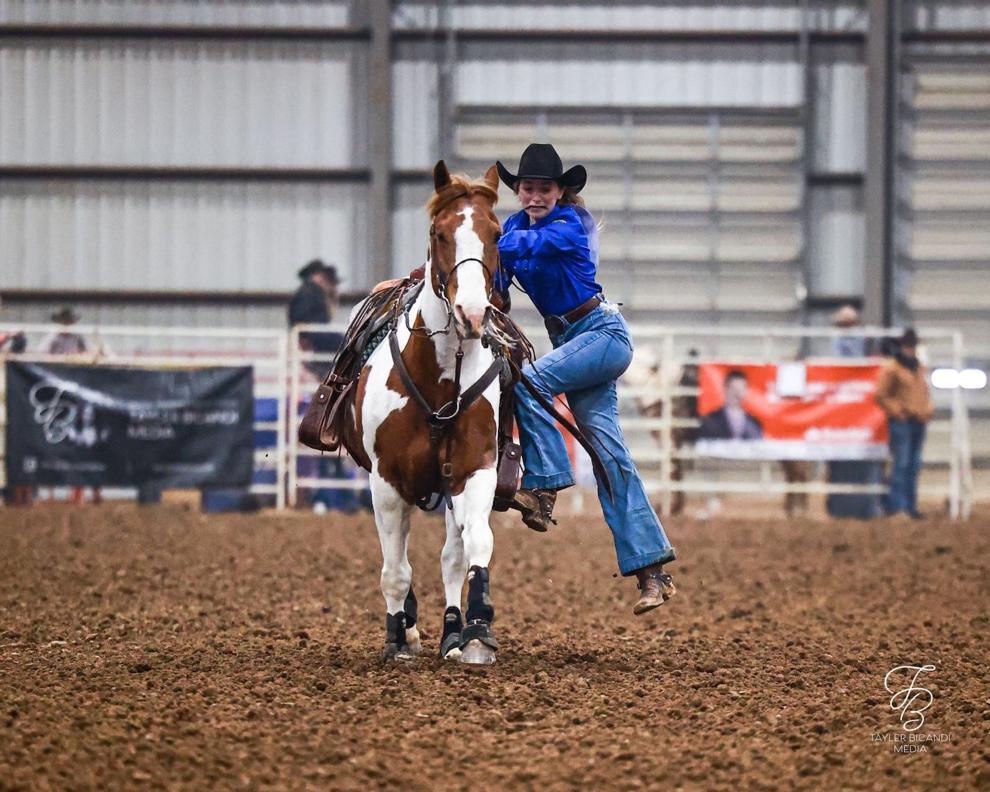 The RCHS sophomore got into rodeo through her older sister's friends, she said. She competes in the High School Rodeo Association, Indiana Junior Rodeo Association, and Midwest Youth Rodeo Association. By performing well in these sanctioned rodeos, she was able to qualify for the NLBRA finals.
"I do pole bending and barrel racing along with goat tying," she said.
Goat tying requires the participant ride down the arena on a horse, jump off the horse and tie three of a goat's legs together.
"What crazy person thought it would be a good idea to run full speed down an arena and then get off and flank a goat? It's beyond me," she said.
Bradley's horse is named Magic. Magic is a 12 year old American Paint Horse. Bradley's owned the horse for six years.
"I just found out that she absolutely loves when you put the hose nozzle in her mouth," she said. "She has a big personality. She does a lot of dumb stuff, but it's absolutely adorable. She can be lazy at times, but when we get into the arena, she is all for it. She works hard for me."
Bradley has a mule, Violet, who is Magic's best friend. She also has a goat, Lacie, which she uses to practice goat tying.
"I will ride Magic, and then separately I go work on goat tying," she said. "It's a lot of work because you have to stretch your legs, you have to run, you have to flank the goat, you have to practice your tie – it's a lot."
Her personal best is 13.13 seconds. At nationals, she is aiming for 11 seconds.
"I'm really nervous because there's a lot of good people there," she said. "I just started doing this. Hopefully I can make a 12 or 11 second run, but I'm sure there's girls there who can make 7 or 8 second runs. One second is a whole lifetime in rodeo."
Bradley said she thinks the average run time for goat tying is between 9-10 seconds.
"I'm gonna work my butt off to make sure I can get up in time, but a lot of girls have more resources than I do," she said. "We don't have an indoor arena so I can't really practice every day like I want to, because I don't want to risk my horse getting hurt. I'm a beginner at this, and all those other girls are already so good at it."
Bradley competed almost every weekend for the last several months.
"We worked so hard year round, so going to nationals this year – we worked so hard to get here," she said. "We practiced and we cleaned stalls, cleaned the horse, taking care of everything. It was a very rewarding moment. When we found out I qualified for nationals, Mom and I were literally crying.
"We were so excited and I think that was the best part. All of our hard work was worth it and now we get to apply it at nationals."
Bradley is looking for sponsors for the event. Anyone interested in sponsoring Bradley and Magic can message Stacy Moore Bradley on Facebook and msbrad04 on Instagram.