Rupert Boneham, four-time participant on the reality TV show Survivor will get to combine two of his favorite things Saturday: helping people and cruising around Central Indiana on a Harley-Davidson bike.
"One of my first vehicles was a motorcycle, and there were three years where all I could afford was a motorcycle," Boneham said.
The second annual Rupert's Kids Ride will take place Saturday, June 5. Registration begins at 11 a.m., and kickstands should be up by 12:30 p.m. Boneham will be back riding along this year.
"John Glass started creating this ride a few years ago," Boneham said. "We missed last year, but hopefully like the others, we get 10, 20, 30 years of this. We are hoping for a few hundred bikes to come out with us."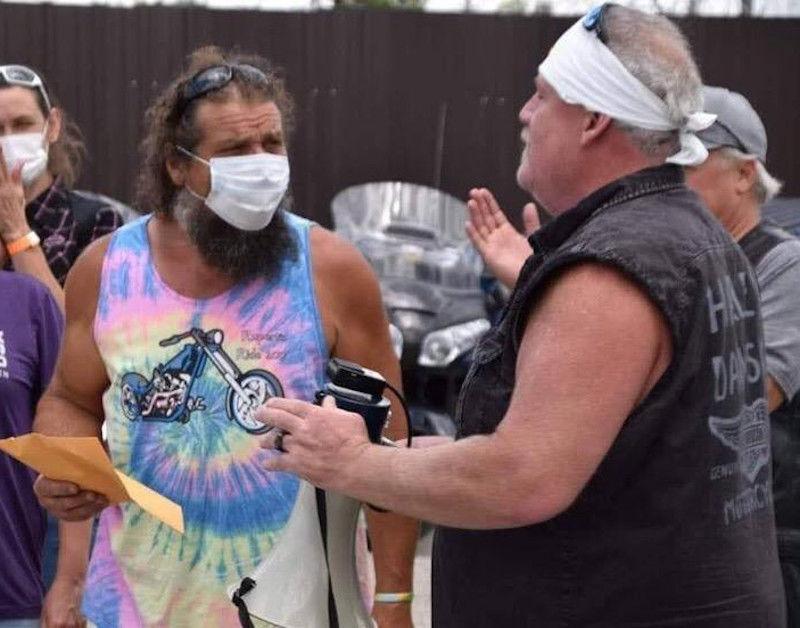 This is the second year for the event in Shelbyville, but Boneham has been hosting rides for quite some time in Indiana, including a ride in Lafayette that has been going on for 13 years.
Pricing for the Rupert's Kids Ride is $25 per rider and $5 per passenger. The ride will start at the Indianapolis Southside Harley-Davidson, 4930 Southport Crossing Place.
The ride will stop at Kitley Inn, Twisted Sisters (which only accepts cash), and will end at Rupert's Kids Arcade in Shelbyville where a meal will be provided. Raffles and door prizes will be available.
The proceeds will go to repairing the non-profit's bed bug truck. The truck provides extermination services at a much cheaper rate than other companies, Boneham said.
"One of the revenue streams we lost a few months ago was our bed bug truck," Rupert said. "Our goal is at least getting the $2,000 to $3,000 to fix our truck's lift gate that would also generate $10,000-20,000 in revenue for the re-entry program."
Rupert's Kids is a non-profit organization founded by Boneham. They take formerly incarcerated individuals and help them become active and contributing members of society.
Rupert heavily believes everyone deserves a second chance, and some people need even more chances than two. They proudly take participants who were kicked out of other programs and try to help them get on track even when other programs have given up.
The goal is to empower participants to help them discover their inner strengths and help them realize their own self-worth and value to society by providing several in-house resources.
"When they first come in, some of them are like 'I don't want to do this anymore', and that motivates me to do whatever I can to help every day," said Brandy Cameruca of Rupert's Kids. "It's day by day for them a lot of times, sometimes its hour by hour. It always sticks with me to make them smile. When I go home and I make one of them smile, or get a thank you, it helps."
Rupert wishes to help participants overcome their past life choices by teaching lessons about responsibility and work ethic.
Of 44 participants in the first four years Rupert's Kids was in Shelbyville (2014-2017), only seven participants re-offended and are back in incarceration. The 84 percent success rate heavily defies usual repeat offender statistics, proving that some of these people just needed a chance with outward support, Boneham said.
"We have two that have come out of the system here in central Indiana that are mentors now," Boneham said. "They have gone through the peer recovery coach and have their years of sobriety and being clean from their addictions, and now we are scheduling for their certifications in Rupert's Kids. The Recovery Café in Marion is going to be able to put four new recovery coaches in Shelby County for no cost to Shelby County."
5K Survival Dash
The next event hosted by Rupert's Kids will be their fourth annual 5K Survival Dash on July 10 at 500 Frank St. The check-in will start at 8 a.m.
The race won't be timed and is just for fun.
Prices start at $25 for adults and $15 for children. There is also a $30 virtual option that will be like last year's race; it is perfect for fans of Rupert's that live out of the state but still want to help.
Register by June 20 or prices increase and shirts will no longer be guaranteed. No registrations will be allowed after July 5.
Almost all of the money raised for Rupert's Kids is raised by the organization itself with minimal outside help. So if you can't attend these events but still want to help, donation links can be found on the organization's website, RupertsKids.org.