With giant grins on their faces, a few dozen children sprinted to a man normally spotted wearing a red and white coat and hat around Christmastime Wednesday afternoon at Morrison Park in Shelbyville.
Santa Claus, dressed in more casual fashion on a warm summer day, made an appearance as part of the Shelby County Public Library's Reading Adventures at the Park summer series.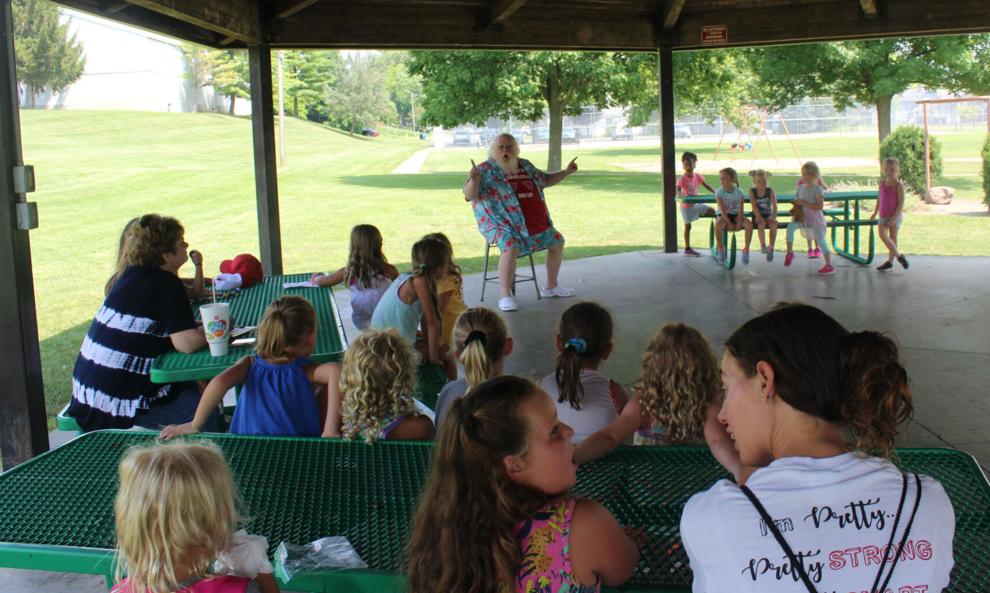 Jolly Saint Nick sported crocs and a T-shirt that read "Most likely to eat Santa's cookies? This guy," with two thumbs pointing toward him.
"Can I get a ho?" he asked the approximately 50 children in attendance, many of whom came from Girls Inc.
"Ho!" they emphatically responded.
"Can I get a ho?" he repeated.
"Can I get a ho?" he asked a final time.
"What's that spell?" he said.
"Ho ho ho!" the children called out in unison.
"Merry Christmas!" he said.
This was Santa's first appearance at the program, Pamela Weakley, the outreach services department head at the library later said.
Santa told a couple stories about his animal friends, including Flower, an undersized reindeer who he said sometimes joins him inside the sleigh as he makes his rounds delivering presents the night before Christmas.
And before telling a story about Willie Tookie, who becomes a monster mookie after eating 10 cookies despite his mom warning him that that is what would happen, Santa asked what the group's favorite cookies were.
After they shouted out their favorite, he had another question.
"What's my favorite cookie?" he asked.
The children shouted their best guesses.
"All of them," he revealed with a chuckle.
By the time story time was over, the children broke out into an impromptu rendition of "Santa Claus is Coming to Town" while waiting to individually meet with the man himself for a photo.