Shelbyville resident Bette Moore is celebrating her 100th birthday today.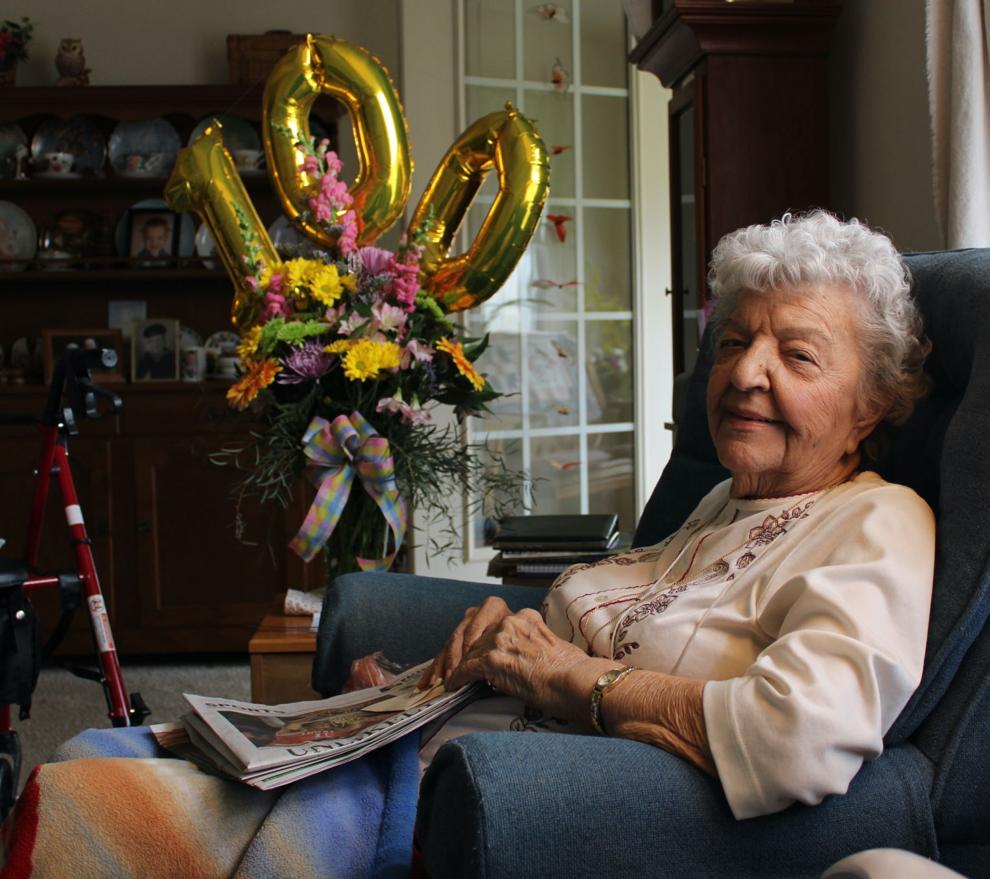 Moore, who grew up in ("a small town") Greenfield, first came to Shelbyville when she married her husband, Bob, who was from here.
"She got married at 21, and he was 23," said Moore's caretaker, Vanessa Carlin.
Moore met her husband at the skating rink in Shelbyville.
"What was it you said? You and your girlfriends went there to meet some fellas, and you sure met one, right?" Carlin said.
"We married the ones we met," Moore said.
She was married to Bob for nearly 70 years, until he passed away. She had two boys and a girl with him.
Moore has eight grandchildren and 11 great-grandchildren.
"I have to stop and count," she said. One of her sons called during this part of interview and pulled up their family breakdown on his computer.
Her descendants live in mostly California, Washington and Delaware, she said, so they will be celebrating her birthday over a Zoom call.
"I was born during the Depression, and times are a lot different now," Moore said. "It seemed to be like people were more willing to help each other."
"Whatever you had, you shared with your neighbor," she added.
Moore worked as an assistant assessor in the Shelby County Courthouse. She also owned Arrowhead Ceramics on Knightstown Road for several years. She had "three, huge, big kilns."
"It's a faded thing," Moore said. "People just aren't doing it anymore, partly because you can't get the materials to do the ceramic. ... There's some trying it now. I hope it comes back."
Moore said her family found so many arrowheads while building their home that they named it Arrowhead Acres. The shop name followed.
It was this part of the interview where she received a flower bouquet delivery with balloons spelling out "100." The flowers are from Cossairt Florist, but neither Moore nor Carlin were sure of who sent them.
Because Moore has lots of friends, she said.
She and her husband started a church group for people over 65. The group is named Coffee, Cookies and Conversation.
"Even during the virus, we've tried to keep it going because often the older people are forgotten," she said.
Carlin said Moore is very talented, explaining the paintings on Moore's walls depicting flowers that she did herself.
"She says she doesn't think it's talent: you're either born with it or you're not," Carlin said.
Now, Moore sews lap quilts. Carlin said Moore taught her how to do it.
"Those in wheelchairs make you want to take a nap," Moore said.
After her youngest one went to college, Moore and her husband travelled to every state and 21 countries.
"My husband and I couldn't go to college because it was Depression time, so after our last one was through college, we started traveling," she said.
Her favorite trips included an Alaskan Cruise and visiting Belgium.
"I think I enjoyed Belgium, because most of the streets were canals," she said.
Speaking of travel, one granddaughter flew in for her birthday.
Her granddaughter called near the end of the interview to ask what time she should come over today, and Moore said to come over whenever, because she's an early riser.