Rosalie and Dave Hardin held a grand opening Saturday for their new furniture and small appliance store, WestSide Home Goods.
The location, 1406 Miller Ave., first opened about a month ago. Since then, Rosalie said the sales have been great.
"We're getting the word out more and more through Facebook, and customers are telling their friends, friends are telling their relatives, and we're very pleased with the progress so far," Rosalie said.
The grand opening celebration gave a boost to the new store.
"It was to introduce our business, not necessarily make a lot of sales today," Rosalie said.
The Hardin couple used to own The Chicken Inn, but they sold it in 2020 so they could retire. And the retirement plan included running a furniture store.
"We just want to say thanks to our team, we've got a great team, and thanks to the public, our friends, neighbors and family who have supported us throughout all this," Rosalie said. "It's been a big transition from being in the food business for so many years coming to this, but it's something we truly enjoy. We love what we are doing."
The Chicken Inn even catered the event. New owners Bill Aughe and Kent Hankins brought one of the restaurant's staples – chicken and noodles.
"We have a great relationship with the Hardins, and when they asked us to participate in this, we were more than happy to step up," Aughe said.
"A lot of people ask for our chicken and noodles, and it's kind of a cold day, so we thought it would go over well," he added.
Up In Flames Pizza and Paparazzi Jewelry Dealer were also set up outside the store.
Since its soft opening in October, WestSide Home Goods now has Christmas Decor for sale. Customers browsed through the holiday-themed front room while sipping hot drinks and snacking on cookies provided by the Hardins.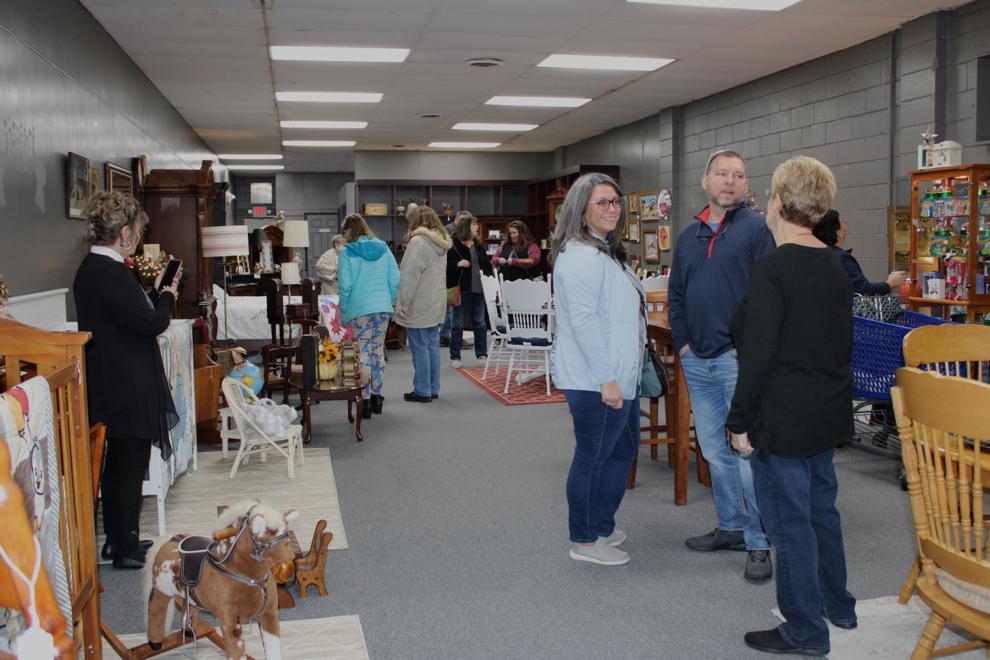 "This is my second time in here, but I know them," said Robin Fix. "We were at The Chicken Inn all the time when they owned it and I've known them a long time."
Fix said she loved the store. She was browsing for Christmas, she said.
"It's wonderful," she said. "There's all kinds of different options and antiques."
Donnie Stagnolia decided to stop in after driving by and seeing the grand opening sign out front.
"It looks really nice," he said. "It'll be an upgrade for this side of town – It'll bring more business. I hope they do well. They've been around a long time."
WestSide Home Goods is open from 10 a.m. to 6 p.m. Tuesday through Saturday and noon to 5 p.m. on Sunday. The store is closed on Mondays.