Valarie Pickett started keeping bees in 2015 after her doctor said she should eat more honey.
"My doctor recommended I try eating local honey to help with my allergies," she said. "I began looking up the health benefits of honey and learned it has been widely accepted as food and medicine by all generations, traditions, and civilizations, both ancient and modern. Numerous studies have shown that honey has antibacterial, antifungal, antiviral, and anti-inflammatory properties that can be beneficial to our bodies."
She discovered honey is one of the only foods in its raw form that is never supposed to go bad.
"Archaeologists have even found pots of honey in Egyptian tombs that are thousands of years old, and yet still preserved and completely edible as if it were only a day old," she said.
Pickett's research into honey ignited her fascination with its maker: the honey bee.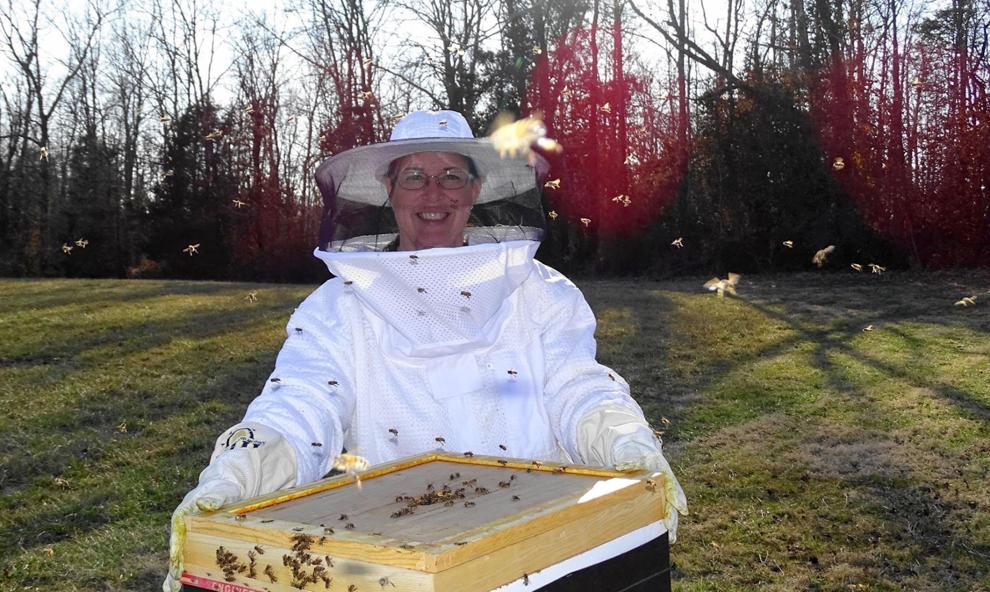 "I have a friend, Karen Conover, who was also interested in raising bees. We went in together to purchase our first bee hive and spent that first summer learning as much as possible," she said. "The next year, we each started our own apiaries (an area where beehives are kept), and now I have 12 hives that produced over 550 pounds of honey last year."
Shelby County Beekeepers Club
In early 2000s, the world's bee population was under threat. Colonies across the United States brought the issue to the forefront. A new crop of beekeeper, in turn, helped spread bees hives to yards across the country like honey over warm toast.
Pickett leads the Shelby County Beekeepers Club for other local apiarists. The closest group was in Hancock County before she organized the Shelby County meet-ups.
"I continued attending monthly meetings in Hancock County, and after a couple of years I was asked if I could lead them," she said. "At that point, I decided I would rather create an organization where local beekeepers in Shelby County can come together to discuss, teach, learn, and encourage each other in their beekeeping journey."
The Shelby County Beekeepers Club is made up of veteran keepers, new hive owners and people just now learning about the hobby. Pickett said they all have their own way of keeping bees, but they share the same goal: they want to be successful, and they want their honey bees to survive.
"I always recommend anyone interested in becoming a beekeeper attend a local meeting near them, as well as learn all they can prior to getting their first beehive," she said. "Keeping bees can be quite a chore, and there is a lot a beekeeper has to do to get to the point of harvesting honey. This is definitely not a hobby you should just jump into."
Good-intentioned environmentalists should do their research before jumping full in, though. Pickett warns that beekeeping is not for everyone and not every location is good for bees.
"First, I recommend checking with local authorities to make sure you can keep bees at your chosen site. If there are no restrictions, then consider talking to neighbors to prevent any problems down the road," she said. "A local beekeeping club is a great way to get to know other beekeepers, and learn from their experiences and struggles. The Shelby County Beekeepers have had some informative speakers, and it's just a great group of people to get together with."
Swarming is natural
Pickett also rescues honey bees in the Shelby County area.
She explained that if a hive becomes too crowded, the existing colony will divide into two colonies and one will fly out to find a new place to live. This process is called swarming.
We are in "swarm season," and it is a natural process, she said.
"In the spring, it is common to find large swarms of honey bees clustered and hanging from a branch or on the side of a building. This is actually my favorite time of year, and I love to rescue swarms," Pickett said.
She sometimes gets two to three calls a day from people who have had a honey bee swarm land somewhere on their property. Although the bees will normally leave on their own after an hour or two, Pickett said it is best to contact a beekeeper if you find a new swarm on your land.
"We never know where they will decide to start their new hive and occasionally it may be inside your home, barn, grill, or some other spot inconvenient to humans," Pickett said.
When Shelbyville News readers discover a swarm, they can call or text Valarie Pickett at 317-439-4616. If she's not available to help, she will contact someone who can.