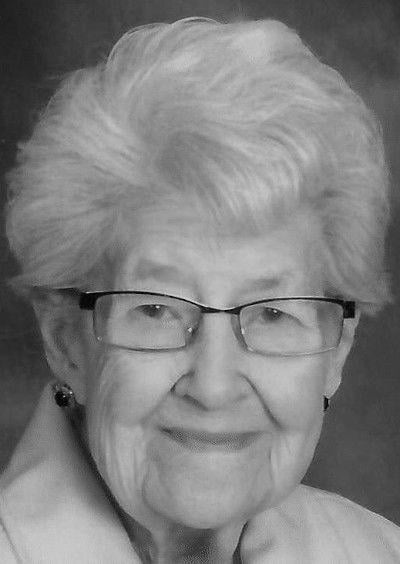 Betty Louise Roupp, 94 of Edinburgh, Indiana went to be with our Lord and Savior, Jesus Christ, on Tuesday April 6, 2021 at Silver Oaks Health Campus in Columbus. She was the daughter of John and Flossie (Overlease) Snyder. She was born September 6, 1926 in Bartholomew County, Indiana. She married George Ransom Roupp and he preceded her in death on August 8, 2005.
She is survived by her son, Gary Roupp of Edinburgh, Indiana and the family dog, Chip.
She was preceded in death by her parents, husband, and brothers, William Snyder and Harold Snyder.
After graduating from Columbus High School she went to work at Camp Atterbury. Later she worked several years for Indiana Bell Telephone. Being the loving and caring mother she was, she quit her job in 1960 to be, as she said, "I need to be home when my son gets off the bus." Known as a quiet woman, she was also kind, caring, loving, big and soft hearted. She spent the majority of her life caring for others and putting others first. Although not a big sports fan, she always saw to it that her son got to practices and games in his youth.
Betty was a member of Old Union United Church of Christ and Ladies Aide Society.
A funeral service will be conducted by Pastor J. Kirby Rupp at 12:00 PM on Saturday, April 10, 2021 at Eskew-Eaton Funeral Home in Edinburgh, Indiana. Calling will be from 10:00 AM until time of service at noon. Burial will be at Rest Haven Cemetery in Edinburgh.
In lieu of flowers donations may be made to Old Union United Church of Christ, 12703 N. 50 W. Edinburgh, Indiana, 46124.