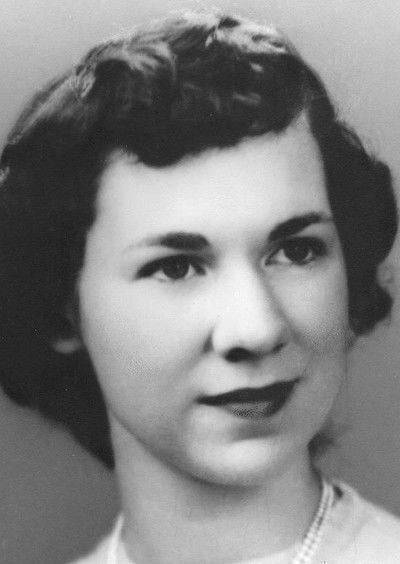 Darlene Ann (McIntyre) Wertz, 88, of Plainfield, Indiana, passed from this life on February 22, 2021.
Born in Shelbyville, Indiana on August 22, 1932, Darlene was the only daughter and second child of Raymond and Mildred (Smith) McIntyre. She spent her first 18 years in nearby Flat Rock, graduating from high school in 1950. During those years, like so many families who survived the difficulties of the Great Depression, Darlene helped care for her family while both parents worked outside the home. While attending Flat Rock, she was a model student, Class Secretary, cheerleader and member of the girl's basketball team. There she also met the love of her life, Kenneth Wertz, two years her senior. After graduation Ken immediately joined the U.S. Navy, returning every chance he could from training at Great Lakes in Illinois to visit his "Dee." Nothing would prevent them being together, even if it meant hitchhiking the four plus hours from Chicago. They were engaged on her 18th birthday and soon began their lives together as a military family. This included stays in Illinois, Indiana, Maryland, Washington DC, Hawaii, and multiple bases in California. Along the way they welcomed three sons and one daughter, and this family of six traveled thousands of miles and lived at dozens of different addresses while serving their country.
Darlene was the model "Navy wife", supporting her husband, keeping a perfect home and caring for their children. When Ken was called to serve overseas during the Vietnam War, she moved the household to Indiana to be close to relatives. During this difficult time, Darlene did everything necessary for her family including working at JC Penney in Shelbyville where they settled temporarily.
In 1969, after 20+ years of Navy service and subsequent retirement, the family moved to Plainfield, where Ken began work at the Indiana Youth Center. Soon after, Darlene joined the Reception Diagnostic Center, also part of the Department of Corrections. She worked there for 18 years, eventually retiring as the office supervisor. Darlene spent the final years of her life with Ken, lovingly caring for him after he suffered a left hemispheric stroke in 1993. He preceded her in death on November 1, 1998.
Her parents and her brother Jack McIntyre of Shelbyville also preceded Darlene in death. She will be terribly missed. She was a role model to her friends, work associates and especially her family. Darlene is survived by sons Michael Wertz of Indianapolis, Patrick (Vicki Meloy) Wertz of Plainfield, Christopher (Vicki Horn) Wertz of Indianapolis and daughter Mary Durell, also of Indianapolis, as well as her 9 grandchildren and 8 great-grandchildren.
Her quiet strength and love for all, especially her family, was an inspiration. She lived an honorable life.
Calling will be at Hall-Baker Funeral Home in Plainfield on Friday, February 26 from 11am to 1pm with the funeral immediately following.
Memorial contributions can be made to St. Jude Children's Research Hospital 501 St. Jude Pl. Memphis, Tn. 38105-9959.
All guests attending visitation and/or services will be required to wear a mask at all times in an effort to promote a safe environment. You are also invited to watch the services via live stream on the Hall-Baker Funeral Home Facebook Page.