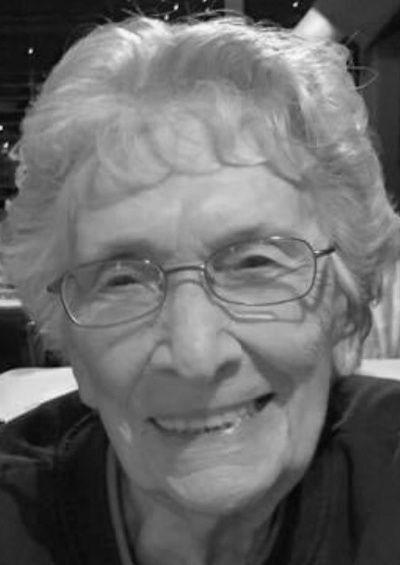 Lela Mae Kimery (Guffin) Ewing, age 94, of Lakewood Ranch, Florida, passed away on February 10, 2021 in Venice, Florida. She was born in Greenwood, Indiana on October 12, 1926 to Ralph D. and Clara Agnes (Zartman) Kimery. Lela graduated from Morristown High School in 1944. She married Rolland D. Guffin on July 20, 1946 in Gwynneville, Indiana and after his passing in 1991 married Lawrence Ewing on December 28, 1998 in Palm City, Florida.
Lela was a homemaker, former Sunday School teacher and a member of Gwynneville Christian Church.
She is survived by her three sons, Carl and Dottie Guffin of Punta Gorda, Florida, Robert Guffin of Clermont, Florida, Marvin and Pam Guffin of New Palestine, Indiana; and one daughter, Patricia Hauk of Plainview, Texas: brothers, Don Kimery of Cox Creek, Kentucky, Dick Kimery of Shelbyville, Indiana; sisters, Pat Fisher of Junction City, Kansas, Reba Keaton of Morristown, Indiana, Elsie and husband Jerry Martin of Indianapolis, Indiana, Sue Scott of Indianapolis, Indiana; nine grandchildren and 16 great grandchildren. Lela was preceded in death by her first husband, Rolland Guffin and second husband, Lawrence Ewing; two brothers, Jim and Ray Kimery and three sisters, Avon Huhnke, Mary Tracy and Erma Potter: brother-in-laws Joe Potter, Bob Keaton, and Clancy Fisher; sister-in-laws Barbara Kimery and Treva Kimery.
A funeral service will be held on Wednesday, February 17, 2021 at 11:30 AM at Erlewein Mortuary & Crematory, 1484 W. US Hwy. 40, Greenfield, IN 46140 with viewing from 9:00-11:00 AM prior to the service. Pastor Ted Hagel will be officiating. Burial will follow at Hanover Cemetery, Morristown, Indiana. As a reminder, the government mandate requires guests to wear masks when inside the building. We must also limit the number of guests in the building according to the state policy and please practice social distancing.
The family invites you to watch a livestream of Lela's funeral service here:
In lieu of flowers, memorial contributions may be made by mail to the Gwynneville Christian Church, P.O. Box 130, Gwynneville, Indiana 46144. Friends may share a memory or condolence at www.erlewein mortuary.com.