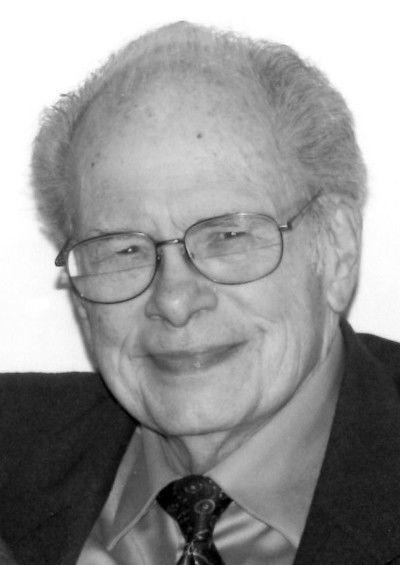 Mark J. Elliott, 94, of Lafayette, formerly of Shelbyville, while surrounded by his family went home to be with his Lord, Wednesday, April 7, 2021.
He was born in 1926 in La Crosse, WI, to the late George "Mark" and Kathryne (Vaughn) Elliott. He graduated from Western Hills High School in Cincinnati, OH before attending the Cincinnati Bible Seminary. Mark proudly served his country in the United States Navy aboard PC 825, between the Marshal Islands and Japan during World War II. He retired from General Electric Company & Wellman Thermal Systems after 36 years.
On June 16, 1948 he married Roberta "Jean" Townsend in Cincinnati, OH. She preceded him in death on January 26, 2005. He then married Delores M. Smith on March 22, 2008 and she survives.
Mark was a 25-year Veteran Scouter, having served in Ohio, Virginia, New York and Indiana. He holds the Wood Badge Beads and the Silver Beaver Award of the Boy Scouts of America. This was prior to 2013 when the National Council of BSA voted to no longer support the Scout Oath "To keep myself physically strong, mentally awake and morally straight." He worshiped with the Church of Christ in Lafayette and assisted with the establishment of the congregation in Shelbyville. He was charter member and Treasurer of Shelbyville Noon Sertoma Club. He enjoyed being outdoors and doing Biblical research.
Along with his wife, Delores, he is survived by his children: Robert Elliott (wife, Lillie) of Martinsville, IN, William Elliott (wife, Peggy) of Kingman, IN, Marty "Kate" Prasuhn (husband, Steve) of Stockwell, IN, Merrie Ramsey (husband, Jeryl) of Lafayette; and stepchildren: Cynthia DeBerry and Darrel Orland McCann both of Indianapolis; siblings: David Vaughn Elliott of Northborough, MA and Lois Morse of Mason, OH. He is also survived by 25 grandchildren and 40 great grandchildren.
Visitation will be held from 4:30pm – 5:30pm Saturday, April 10, 2021 at Hippensteel Funeral Home. Funeral service will begin at 5:30pm. Current Covid-19 precautions will be observed along with social distancing and current government attendance guidelines. Masks are required. Share memories and condolences online at www.hippensteelfuneral service.com